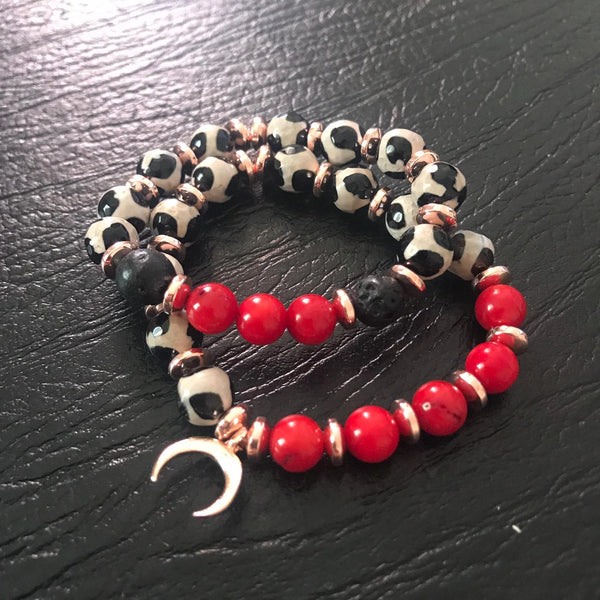 Coral Tibetan Agate Hematite And Lava Stone Bracelet
Stones used in 2 wrists with strong energies;
Coral
Rose Hematite
Tibetan agate
Lava stone is made for every wrist made of rubberized line. It is useful to specify your wrist size in case of order.
BENEFITS OF CORAL STONE; It is one of the strongest stones in feature. As a result of the studies and experiments carried out by scientists, the following effects on human have been determined; It provides protection against evil eye. It is known to remove negativity and negative energy in homes and families. It provides focus on purpose and increases stability. It eliminates concentration deficiencies and increases concentration. Eliminates excessive excitement and emotions. It protects and strengthens the heart, spleen. It balances hormonal systems. It is used in the treatment of many skin conditions, especially psoriasis and is healing. It helps maintain purity and balance. It is said to protect children against child diseases. It regulates blood circulation and is used in the treatment of blood diseases. It strengthens the mind and gives the person intelligibility.
HEMATITIS: It has happiness, positive thinking and encouraging effects on people. Hematite stone is good for our indecision. It helps us find the best in our choices. Hematite stone is beneficial for gonorrhea.
Jasper; Jasper stone, which provides fertility, protection, strength and healing, is a good grounding and balancing stone. It provides calm energy for meditation. It is a great stone for centering and facilitates the transition to meditative. It is related to the root, spleen, abdomen and heart chakras.
LAV STONE; It helps the vessels to expand. With the dilation of the veins, blood circulation is accelerated and helps open the blockages in the veins. It is a natural stone that can help treat many diseases caused by blood circulation. It energizes people mentally and physically.