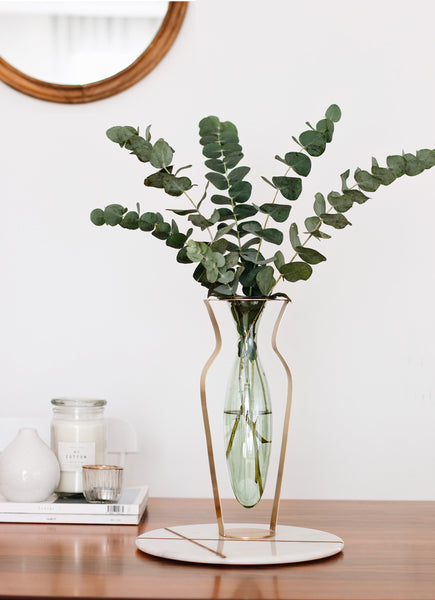 Droplet Vase Menta - Long
Materials: Matt Varnished Brass Blown Glass (Luster Green Oven Paint)

Droplet takes its inspiration from nature, the droplets that form the essence of life. Starting from the concept of keeping flowers in a drop, Droplet reflects nature in an elegant form. The brass frame, which illustrates traditional vase forms, traps a glass drop shaped by the blowing technique in the air.
Representing these extracts, Droplet is available in three different colors; Blue (Aqua), Mint (Menta) and Honey (Honey). The natural shine of rice combines perfectly with the luster of luster glass.
Care Recommendations: For long-term use, it is recommended to wipe the brass frame with a dry cloth and wash the glass vase by hand.
* The flowers in the images are used for decorative purposes, not included in the product.
Weight: 700
Size: Length: 34 cm Width: 12,5 cm Depth: 9,5 cm
Weight: 700
Size: Length: 34 cm Width: 12,5 cm Depth: 9,5 cm
Weight: 700
Size: Length: 34 cm Width: 12,5 cm Depth: 9,5 cm
Weight: 700
Size: Length: 34 cm Width: 12,5 cm Depth: 9,5 cm
Weight: 700
Size: Length: 34 cm Width: 12,5 cm Depth: 9,5 cm
Weight: 700
Size: Length: 34 cm Width: 12,5 cm Depth: 9,5 cm
Weight: 700
Size: Length: 34 cm Width: 12,5 cm Depth: 9,5 cm
Weight: 700
Size: Length: 34 cm Width: 12,5 cm Depth: 9,5 cm
Weight: 700
Size: Length: 34 cm Width: 12,5 cm Depth: 9,5 cm
Weight: 700
Size: Length: 34 cm Width: 12,5 cm Depth: 9,5 cm
Weight: 700
Size: Length: 34 cm Width: 12,5 cm Depth: 9,5 cm
Weight: 700
Size: Length: 34 cm Width: 12,5 cm Depth: 9,5 cm
Weight: 700
Size: Length: 34 cm Width: 12,5 cm Depth: 9,5 cm
Weight: 700
Size: Length: 34 cm Width: 12,5 cm Depth: 9,5 cm
Weight: 700
Size: Length: 34 cm Width: 12,5 cm Depth: 9,5 cm