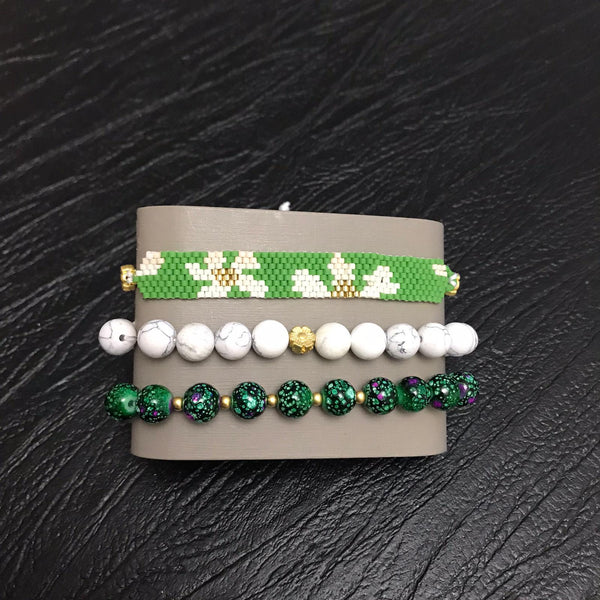 Miyuki And Havlit 3 Pıece Bracelet
MİYUKİ KNITTING BRACELET KIT
WHITE TOWEL NATURAL STONE IS USED.
GREEN BEAD is GLASS BEAD. SUITABLE FOR EVERY WRIST MADE WITH THE TIRE.
BENEFITS OF TOWEL STONE;
Towel stone is a stone that is good for physical and mental diseases. People with such ailments are advised to carry their towels with them.
It is very effective in joint pain and cramps. For this reason, it is recommended to use athletes.
It is a very useful stone for bone health.
It has a healing property in the treatment of stress related diseases and depressive illnesses.
It has memory enhancing feature. Students are recommended to carry with them.
It is good for circulatory system diseases.
It cleans the blood and is significantly effective in heart diseases.
Thanks to its calming effect, it improves different but negative moods such as anger, pain, fear and frustration.
It is good for insomnia, it is extremely effective to keep the towel under the pillow to wake up more restful and vigorous. Also, under this stone pillow, the person remembers his dreams more clearly when he wakes up. Similar to these features appear in the stone stone.
It is important for dental and bone health. For this reason, pregnant women are recommended to use.
It is especially recommended for students since it has a special feature of attention.
It has the feature of encouraging by increasing self-confidence.
It keeps fit, the person feels more vigorous.
It is recommended to be used during meditation since it has a peace of mind feature.
Since it has a strong calming effect, it is very effective in reducing stress and anxiety. It eliminates anger, aggression and illogicality.
It gives peace, happiness and relaxation in every area. A moderate and harmonious personality is displayed.
Revealing creativity and dexterity, the stone is the perfect stone to inspire and motivate.
It is an effective stone in financial matters such as wealth, abundance, luck and spaciousness.
It helps you overcome your fears in emotional feelings like love and affection.